Here are some tips for using your glass friction call from Bucksnort Hunting World! Each call features an acid etched surface area that is ready to produce realistic yelps, clucks and purrs. Although not necessary, a stone or other conditioner may be used to further prepare the call according to individual preferences.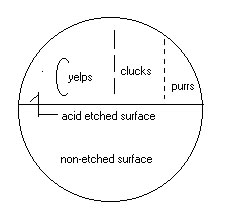 The above diagram shows the inner circle of your call. The top half of the circle has been acid etched whild the bottom half is smooth.
We suggest following the line pattterns on the diagram to produce the basic sounds.
If using our "Black Bart" series of plastic calls, please note that the sound ports are located on the front of the call surcae. The sound will eminate from the
top
of the call