By Andrew Lewand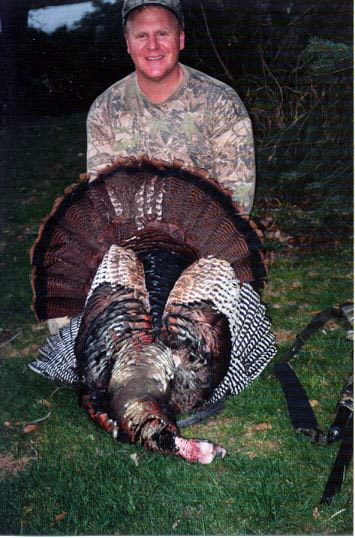 One of the most common dilemmas involving opening day is where to hunt! It is this decision that can be the difference between starting the season with a bang or having a morning of dejection and second-guessing. My decision for the 2003 opener was assisted by one scouting session with my video camera. One week prior to May 1st, I ventured to a local "hot spot" that I usually reserve for pre-work hunts during the week (typically, on opening days and weekends, I hunt the Red Creek area). On this scouting trip, I captured a majestic Tom on film as he strutted and bred two hens. The mature bird sported a long beard and had tell tale white marking on this tail feathers. " I'd like to get a chance at him", I thought to myself. Two days before May 1st, I told my father that I was breaking tradition and going after the local bird. The plan was to hunt him on the fly down and if things did not pan out, we would travel to Red Creek to hunt.
The last night of April had me sitting in wait as I attempted to "put the bird to bed". The task was almost too easy as the bird sounded off repeatedly at 8:00 PM. I was able to pin point his location and my early morning approach would be a snap. The next morning I was awake with anticipation... at 3:30 AM! Far earlier than I planned, however, I jumped out of bed and prepared for battle. At 4:30 AM, I was set up and field edge and enjoyed watching the black sky turn silver. At 5:20 AM, the bird gobbled and continued every minute or so. By 5:40 AM, I could see the Tom on the roost as he fanned and gobbled for another 10 minutes. The next sound was that of a hen emitting tree yelps. Now the gobbler was really fired up! I remained quiet, telling myself that I would begin to call when he hit the ground and call aggressively as I had a lone hen decoy 10 yards in front of me in the field.
At 5:50 AM, the gobbler pitched down. Each time the hen yelped, the gobbler roared back. I decided to jump in the game with my mouth diaphragm. I could see the Tom at 75 yards in full strut. He was headed towards the woods and the roosted hen. I called aggressively and he turned and spotted the decoy. That was all it took and he came in "on a string".
My Remington 870 was readied and his head was in the scope as I worked him with the mouth call. As he approached 30 yards, I could take no more and dropped him! Immediately, I thought about my decision to hunt this bird on the first morning. Upon inspecting the bird, I first noticed his white speckled tail feathers. Indeed, this was the bird I had video taped during my scouting session. The birds stats were... 20 lbs, beard 9.25", spurs 7/8
What a way to start the New York State season!