Here are some pictures of the prizes from last year's contest. The list for this year's contest will be confirmed. They will all be raffled off at the check-in party on January 29th.
Foxpro Wildlife Callers
is suppling a digital call (model 416B camo with remote)for 2006
Outfoxed Products
is supplying one of their new Whirling Woodpecker Decoys for the 2006 contest. It can be put high in a tree and be seen for hundreds of yards. The fluttering wing will attract the attention away from the hunter so you can draw your bow or raise your gun for the up close shot.
Black Creek Calls
is supplying their new howler. This patent pending design features an open reed style howler and a rabbit distress . The rabbit distress call fits securely over the howler reeds to protect them from damage and makes a convenient one piece unit. each call is hand crafted from American cherry and boasts and inlayed trap tag for a unique design.
Black Creek is also supplying 2 Predator Supreme 3-in-1 calls.
Coyote Jakes
is suppling a shootin' buddy rifle rest (model may vary)
Predator Sniper Styx
are suppling a pair sniper styx, a tee shirt and fur taker mouth call
Dogwood Creek Game Calls
are supplying two custom made mouth calls. Check out these works of art...
Actual call may vary
STO Wildlife Calls
has donated a young dog howler call. This is a great looking & sounding call. The are also supplying some cover scent.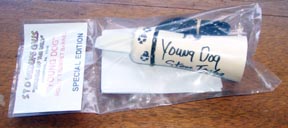 The Varmint Hunter's Associatiion
will provide a gift membership.
Fox Custom Rifles
will offer a gift certificate
Bark at the Moon Coyote Club
will donate a camo hat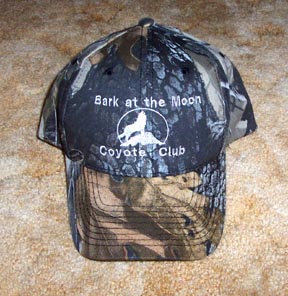 Beikirch's Ammunition
will donate spotlight, some scent remover and a nitelite hat
Gander Mountain
is donating Motorola radios, some calls, thermometers and tee shirts and some "Gander Bucks"
CLICK HERE -->